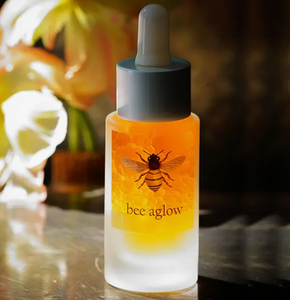 Beauty elixir - serum for the face rich in vitamins and antioxidants for a youthful glow!
Size: 30 ml dropper bottle
Benefits

Enriches the skin to help reduce fine lines and wrinkles
Rich in anti-oxidants and Vitamins
Guards the skin against pollutants and UV rays
Aids in cell regeneration.
Honey! Protects, strengthens, softens and hydrates the skin.
Powerful and Long lasting!

Ingredients
Water, Organic red tea, Sweet almond oil, Argan oil, Sea buckthorn oil, Honey, Royal jelly, Vegetable glycerin, Allentoin, Panthenol (Vitamin B), Citric acid, Bisabolol, Carrot seed oil, Essential oils, Xanthan gum, Potassium sorbate, Phenoxyethanol, Vitamin E
How to use
Shake well allowing the 2 layers to blend - producing a glowing honey color.